She was built for RJ Reynolds, heir to a tobacco fortune of the same name. 'Dick' Reynolds Jnr had a colourful life that included four marriages – one to a Hollywood starlet. He also owned a series of yachts.
Legend has it, Reynolds named Blitzen after his first wife, Elizabeth 'Blitz' McCaw Dillard to persuade her to take up sailing.
'Blitzen' also means lightning in German, and lightning fast she proved, winning her class in the Newport-Bermuda Race in her first season. "It was the Grand Prix boat of the day," explains Peter Morton, whose company Shemara Refit restored Blitzen for new owner, Sir Charles Dunstone.
Blitzen and Reynolds powered to victory in the 2,000-mile San Francisco-Honolulu Race in 1939, also winning offshore between Florida and Havana, then heading to Europe where she finished 3rd in the Fastnet. She continued winning for subsequent owners for the next three decades.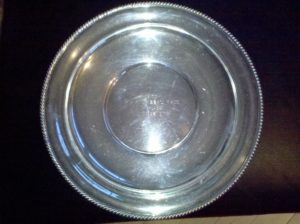 "She was purchased from Reynolds by my father in law Ernie Grates(1944) and his cohort Murry Knapp… my wife and I have the Nassau Cup and this plate…along with a number of banners…" Jay Barth
An article on the 1945 Mackinac Race
Older_we_get_by_George_Van_(1983)

…. and more Mackinac Race reading
Say_It_in_Caps_by_George_Van_(1984)

Restored back to how she was originally.
To control her giant headsails, Blitzen was one of the earliest yachts to be fitted with a pedestal winch, placed abaft the wheel. The original is still on deck, with some new working parts from Lewmar.
Read more in an article by Yachting World.