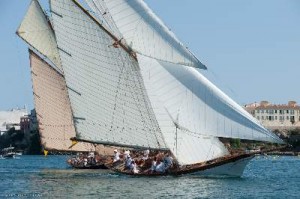 'Avel'  is a type of wind in Breton. She was commissioned in 1896 by Rene Calame, a rich frenchman, and was designed for cruising.
From 1927 she laid buried in the mud in a river in SE England.
In 1990 Avel was bought by Maurizio Gucci who sent her to be restored, which was carried out by Harry Spencer and Clark Poston at Harry Spencer's Cowes yard.  She was completed in 1994 and joined the owner's other classic, the Nicholson designed three masted schooner, Creole.
For years Avel was raced regularly by the Gucci sisters in the Mediterranean classic regattas.
Since around 2016 Avel has been mothballed but still remains under Gucci ownership.