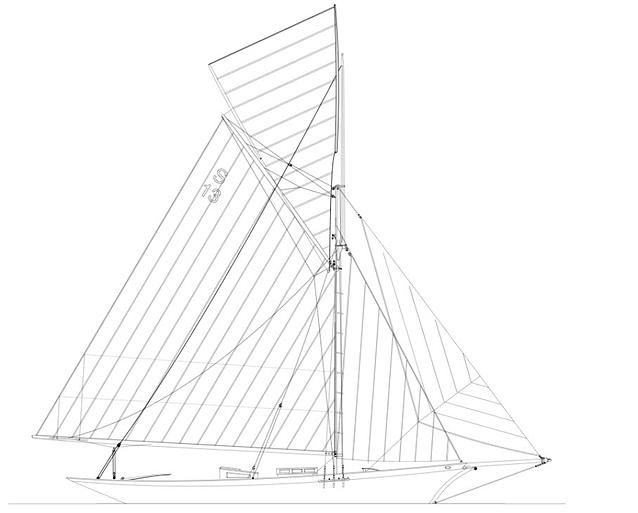 Aorere is an important part of Australia's maritime heritage. One of the oldest yachts still sailing and perhaps the oldest Austalian designed yacht still afloat. Aorere is Maori for 'Flying Cloud'. She was built by a Mr. E.G. Phillips of St Kilda and launched 21st March 1898 to immediately go on a maiden voyage to Mornington some 30 miles down the coast. Aorere was designed by one of her original owners, Andrew Lyell Scott, a 21 year-old engineering graduate. Scott's co-owner was 21 year-old law student Samuel Amess Junior, grandson of the former Lord Mayor of Melbourne.
For the 1901-1902 season she was sold to Dr. Retallack, who appears to have only owned
her for a short time as there is a result on 17/3/1904 of her winning an important race in
the name of Dr. Hodgson. She was sold again for the 1907-08 season to another St Kilda
Yacht Club member Mr A.C. (Bert) Watts, a wealthy Western Australian grazier and
cattle station owner affectionately known as "Skipper Watts".
Aorere became his social racing and entertaining boat, being beautifully lined in French
polished Australian red cedar with red plush cushions and furnishings, and she was
always a treat to behold above and below decks.
Skipper Watts was a well known figure on Port Phillip and on the reintroduction of the
Six Metre class at the Royal St Kilda Yacht Club, had built for the Northcote Cup
Challenge 'Judith Pihl'.
Aorere in the meantime was skippered by Skipper Watts and Judith Pihl by champion 14
footer skipper H.C. (Mick) Brooke. When the Six Metre class broke up in 1937 due to a
class dispute Judith Pihl was sold to Sydney. Mick Brooke then became full time skipper
on Aorere.
It was about 1938 that Aorere, then fitted with a mast and sails retained from Judith
Pihl, was entered in the 38 mile Williamstown to Geelong race. It was blowing 35-45
mph from the southwest with big seas. Immediately successful, Aorere tramped, or rather
submarined her way through the fleet of great yachts, including "Acrospire IV" and
"Eun-na-mara" , and eventually gained line honours. It was a memorable feat to be
talked about for years. Skipper Watt's was so delighted with Aorere's performance that he
sent her plans to Fife in Scotland and asked to design a Marconi rig which was eventually
put into Aorere.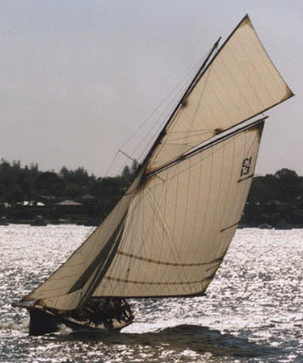 On July 29th, 1943, Aorere was sold by the estate of the late A.C. Watts to Russel
Coutie of the Royal St Kilda Y.C. who retained her for a number of seasons. She was
then on the register of Sandringham Y.C. and Royal Brighton Y.S. until purchased in
1948 by Royal Geelong Yacht Club member Ran McAllister.
Ran McAllister sailed Aorere with success in R.G.Y.C. events for a number of years
winning the A class Aggregate in the 1949-50 season.
Aorere was sold again to a solicitor by the name of Hewison in the early fifties and again
to Graeme Gates in 1958, who enlarged the coachroof to its most recent shape. She was
sold again to South Australia and little is known of her time there except that her last
known owner was Vic Hutchison, who lived aboard for some time until ill health forced
him ashore.
Aorere is thought to have been sent to Western Australia around 1987, and was
purchased at auction in 1992 and taken out of the water for restoration. The old deck
and superstructure were stripped off and the majority of ribs replaced before the hull was
sold to Nicki King Smith and John Buchanan.
Aorere was subsequently purchased in December 1995 by Andrew Mason and Ed van
Beem and underwent a two year restoration to original condition. After restoration she was sailed regularly in the Swan River and was a well loved and commented upon boat.
In 2013 Aorere was purchased by Chris amd Liana Grannery and trucked to Albany where she is undergoing a second refit.