The Royal Dragon Bluebottle has caught the attention of author David Goodday, but coming from an unusual angle. Much has already been written about the Dragon class yacht and her exploits but very little is available on her crew members, and the people behind the scenes. The author is particularly interested in Clive David Smith who was hired at the age of just eighteen, to race and maintain the Royal yacht. Despite being the youngest member of the group Clive was chosen to take responsibility for the boat, train amateur crews and keep the yacht in racing trim.
"I would be interested to hear stories from any of your readers about him or indeed the yacht" says Dave.
"I tend to write as a hobby. I particularly enjoy writing about history which quite often involves writing about people. Their stories, can often capture brief moments in time that commemorate their achievements. They become a personal record, a biography, something that can be read and remembered by future generations."
Dave strongly believes that everyone has a story to tell, not just the rich and famous.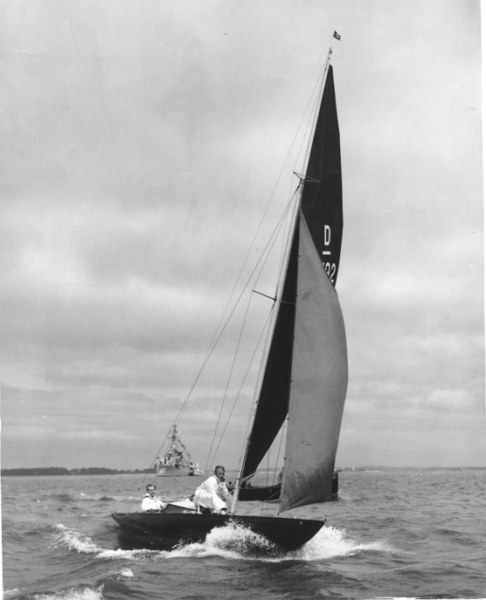 Bluebottle – The Royal Yacht
Drawn by Johan Anker in 1929 the Dragon became an Olympic Class in 1948, a status it retained until 1972, and well over 1000 yachts have been built. Bluebottle was one of four Dragons built in 1947 by Camper & Nicholson's yard in Gosport and she was a wedding present to the Duke of Edinburgh and Princess Elizabeth from members of the Island Sailing Club in Cowes.
During her racing years Bluebottle sailed in many regattas throughout the United Kingdom and toured throughout several countries including France, Norway, Sweden, Portugal, Italy and Canada. Famously in Melbourne, Australia she won a bronze medal in the 1956 Olympic Games.
More on Bluebottle can be found here.
Send in your story
"I would love to hear from anyone who has personal stories to tell about the yacht and her crew during her active racing years. Photographs would, of course, be an added bonus, providing they're not subject to copyright. You never know, some of your stories and pictures may even end up in my book." David Goodday
You can write to [email protected] and we'll pass your message right on. Thanks in advance!
On seeing the article:
Andy
Brilliant couldn't of written better myself.
Thanks for the opportunity to post this on your site, fingers crossed and I will keep you updated about the book. BB was recently completely refurbished in Cowes and was due to be exhibited this year at the Edinburgh Cup which was cancelled due to covid-19.