There will always be those who love classic boats just like there will always be people who love classic cars and old houses. Why? Well the simplest explanation is good taste! But there's something more about a classic sailing yacht. You are going to indulge in the expense of some classic luxury in your life that actually makes sense and not just for all the 'reasons of soul health' that I or anyone else can harp on about.
Yes, certainly for me, I do look at a classic yacht like a woman. The same obvious features on both stand out, and then the deeper you look you find all the other more subtle beauties. If a bow and transom are the breasts and ass, then I guess you could call her sheer line her torso, and the rig her 'legs'. You can't make those kind of comparisons with a car or house! You can dance with your lady just like you sail your boat. You respond to each others moves, her motion in your arms has to be firm yet gentle. Any decent helmsman will tell you that you don't battle and over-steer a long keel boat with sudden movements. It should flow. Gentle movements that flow into each other in pattern, always one step ahead, knowing how she'll react to the next shift in breeze or sea. Sudden abrupt violent movement is for fin and strut, carbon go-carts for the sea. I would venture sailors treat those boats more like hookers, ridden hard and fast and put away wet.
The classic is more like you've found Audrey Hepburn for a girlfriend, and feel duty bound to treat her as she should be treated. Like any beautiful woman, trying to keep that long term relationship going takes a lot of effort, for a classic needs to pampered, and not just some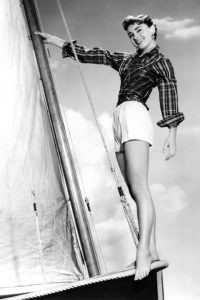 times. She requires daily maintenance and special care that no modern plastic would demand. Any old bits and bobs won't do. Forget plastic. It's hardwoods, bronze, brass, classy, expensive, old-school.
Not anyone can come on board and give her a new fitting. It's gotta be tailor made. No off-the-shelf crap, no random chipie. A shipwright, a man who's more like a Savile Row tailor. He'll adjust the material, and style it just so to fit the client's shape. A rigger will massage her stretched tendons that need care after all that dancing. A sail-makers new set will light her up like a new dress. The varnish is her make up, and sometimes it will feel like you do it every day.
Some days you'll love her and think you're the luckiest man alive gliding along at a rate in sunny trade winds. Mid refit you may wonder how you'll keep her. Your outside life will always be entwined with how she fares and so she suffers those bad times and flourishes in the good times just like you do. For those that can no longer keep that dream, through financial or personal reasons, you have to give her up. They often suffer the odd emotion of being happy that someone else is able to look after her the way she should be, and yet jealous that she is with someone else who's loving her now.
My father's longest relationship was with his boat. Iolaire and he were together for over 50 years and his marriage to my mother is a mere 45. The boat I describe abov
e could be any of the boats on the classic circuit many of whom I've had 'affairs' with. Iolaire was an average girl with average build. The secret to their relationship had more to do with the fact that they put up with the shit they gave each other, out of loyalty and the kind of love that's built up over time, of coming through scrapes, even when everyone has given up on one or both of you. I think I'd have to dedicate this to the man who taught me and my 3 other siblings how to look at boats. He's the only man I've ever met who loved a boat the way he loved a woman, and he taught all of us by example to appreciate their beauty. All of us love classics but yet have as different taste in them as we do in women.
He didn't try and make you follow his version of what made a great boat, but gave you knowledge to know what you wanted and why. I still rate my favourite boats in two categories, the ones I'd like to have a fling with, and the ones I'd live with.
Ted street