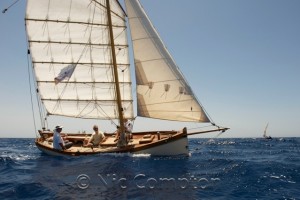 Nic Compton reports…
It's that No9 bus syndrome all over again: you wait years for a Greek wooden boat regatta, and then three come along all at once. It all started with the Spetses Classic Yacht Race, launched in 2011, which inspired the first Cyclades Classic Yacht Race, launched in 2013, which was in turn followed by the Corfu Classic Yacht Race, launched in 2014.
But, whereas the Spetses regatta (and by extension Corfu, which has the same organisers) has from the outset set out to be a prestige event, attracting the smartest classic yachts in Greek waters as well as headline sponsorship from Chivas Regal whisky, the Cyclades Classic Yacht Race has from the outset been more of a community affair.
For a start, the regatta takes place between two islands, with one day's racing around the cans off Syros, followed by a 30-mile passage race from Syros to Paros, and then another day's racing off Paros. The two islands' sailing clubs work together, although the real community events take place on Syros, starting on the very first day.
Whereas the first night of the Spetses regatta is celebrated with expensive cocktails at the Poseidonion Grand Hotel, in Syros the local boatyard cleared its slipway and laid on a massive barbecue. Tables and chairs and a small stage were positioned between a wooden gulet, a steel ferry and a derelict caique. The whole town, it seemed, turned up for freshly grilled sardines and wine at 5 Euros per head. A band came on and played traditional Greek songs, and about 50 people danced hand in hand – an unostentatious dance that was all about the pleasure of being together rather than being flash.
"There used to be many small village ceremonies in Greece," says event organiser Miltos Sakellariou. "It was part of the quality of life. These ceremonies give people a closer and deeper relationship; they make you realise that we all depend on each other. That was some of the feeling I wanted to bring back."
The racing itself was a mixed bag, as you'd expect from a fleet of ten boats ranging from the 65ft topsail schooner Johanna Lucretia, taking a year out from the Tall Ships circuit to cruise the Mediterranean, to the 15ft Alexandra X, a lateen dinghy built by retired Syros boatbuilder as a wedding present for his nephew-in-law. Other boats of interest were a pair of new-builds by Nikos Daroukakis, both based on traditional Greek types but fitted with junk rigs: the 42ft Athena, based on the sponge fishing boats of Simi, and the 18ft Chryssopigi, based on the open fishing boats of Hydra. A more traditional interpretation was the lug-rigged Nautilus built by Nikos Vlaniados, based on an 18th century French naval cutter said to be capable of 15 knots.
But it was a traditional Greek caique from Spetses, the Agios Giorgos, with a mainsail emblazoned with the Spetses motto 'Freedom or death' and its crew dressed in traditional costumes, that won every race in the Traditional Boat class, while Chryssopigi won overall in the Open Boat class. It was a fitting result for an event that mixed the best of tradition and innovation in true Greek style.
For further details on classic yacht regattas check here.