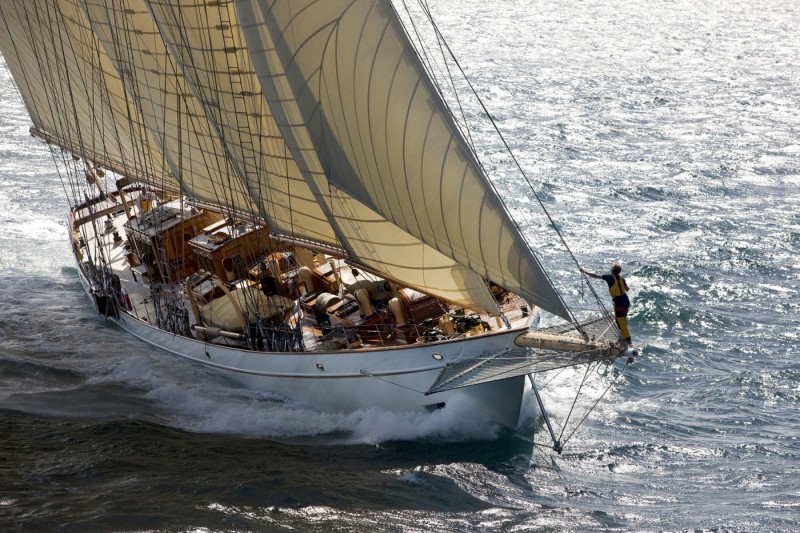 A track north between the Cumbrae islands and the Scottish mainland and past the coastal town of Fairlie, synonymous with William Fife's famous shipyard, is like taking a noble trip down yachting history, but doing this on a 3-masted schooner going like the clappers with the lowers straining at their lashings provides another slant altogether. Adix arrived in emphatic style as she came to a halt off Largs Yacht Haven for the Fife Regatta in 2003, headsails dropped as she rounded up chased by the fluid descent of the Fore, Main and Mizzen in unison. She has seen many a transfixed stare since her 'creation' in 1989 and is currently in the midst of a monster refit that will make slight alterations to her deck layout, but more significantly will propel her into the modern era of carbon spars and carbon rigging with plenty of dyneema on board. The end result – Reduced weight and an increase in sail area.
Originally built as Jessica for an eccentric Argentinian, she was a stumpier version of the sweet lines we see today and equipped with 2 yardarms on the foremast. She subsequently went on to spend a few years as Alan Bond's marketing tool in the late 80's for his Australian brewery 'XXXX' before she was bought by her current owner. An integral part of a successful Spanish banking family the new owner had keen visions and employed Captain Paul Goss to create what we now know as 'Adix'.
Huge inspiration in her rebirth came from the mighty William Gardner designed 3-masted schooner, Atlantic, of 1903. It was two years after Atlantic's launch in 1905 that she undertook a transatlantic race referred to as "The last Great race of Princes" with the legendary Charlie Barr as Captain. The resulting win set a record, sailing 3006 miles in 12 days, 4 hours, 1 minute and 19 seconds with a 24-hour record of 341 miles maintaining an average speed of 14,1 knots! The record was to last until 1998 making it the longest standing speed record in yachting history. I guess you can see why you might like to take a leaf out of Gardner's book!
With Atlantic's lines in mind Adix was lengthened with a new underwater configuration, longer spars and an interior makeover. In the early 90's Adix became well known by the yachting fraternity, both modern and classic, as a beautiful one-off; Powerful and fast, yet elegant and graceful, and sailed with genuine respect to yachting's heritage with particular attention to the art of seamanship.
In the latter part of 2014, Adix sailed across the Bay of Biscay to Pendennis shipyard in Falmouth for what is to be their third refit at this world-class facility. Having un-stepped the masts and removed the bowsprit the 56 metre (185') hull was wheeled into the main shed for the winter work to begin. Goss's long-term trust in the Naval Architect Gerard Dykstra, who was instrumental in transforming Jessica to her current shape, has brought the two together once again. Apart from general upgrades one of the major focuses is lightening her. Not surprising when you consider that due to modifications, regulations and improvements over the last 25 years Adix has increased in weight by a whopping 46 tons!
For the first change: a deck layout modification. The eye-catching teak sheathed steel deck-saloon has been cut away and is to be replaced by an aluminium equivalent, still teak sheathed, that will be 1 metre wider and positioned 1 metre further forward, making way for a sunk 'cockpit' nestled in between the aft end of the deck saloon and the Mizzen mast. In turn this will provide the owner with a superior area for comfortable cruising. Additionally, the topsides will display 4 new port holes on each side, partly for aesthetics but also for natural light down below and the obvious excitement that can be had whilst gazing out of them into the passing seas amidst bowling along at 15+ knots.
In lightening the yacht all factors having been taken into consideration and consequently attention has been focused to below the waterline. One of the most challenging jobs so far has been to remove 80 tons of lead ingots out of the keel taking 8 weeks of hard labour. It has since been melted down and poured back in reducing the lead ballast from 80 tons to 65 tons. Not only that, but the way that the new rudder has been constructed, using a duplex stainless steel shaft for the stock with stainless webs that splay out and are filled with foam, hidden by a carbon fibre cover, provides 300 KG of positive buoyancy!
But this is not the only weight saving. The rig is taking on a modern-age capacity that will thrust Adix into the 21st Century and give her awesome capabilities.
All 3 masts are being replaced in carbon fibre, built by the leading mast-building outfit of New Zealand, Southern Spars. They will boast 4 metres increased length and are dressed with EC6 carbon rigging, favored by so many performance-related yachts including the 52 metre Alden/Dykstra schooner Meteor and at least 3 of the J-Class fleet. The rigging will be 'jacketed' with a polyester braiding material that will provide the appearance of wire from a distance. There will be no bottle-screws to tension the shrouds but anodized deadeyes in the deck and dyneema lashings tensioned by hydraulics.
Structurally new chainplates are currently being positioned up forward to cater for the new loads, and the spreaders on the foremast are going to be adjusted so that they are not swept back as much to improve her light air performance and her acceleration.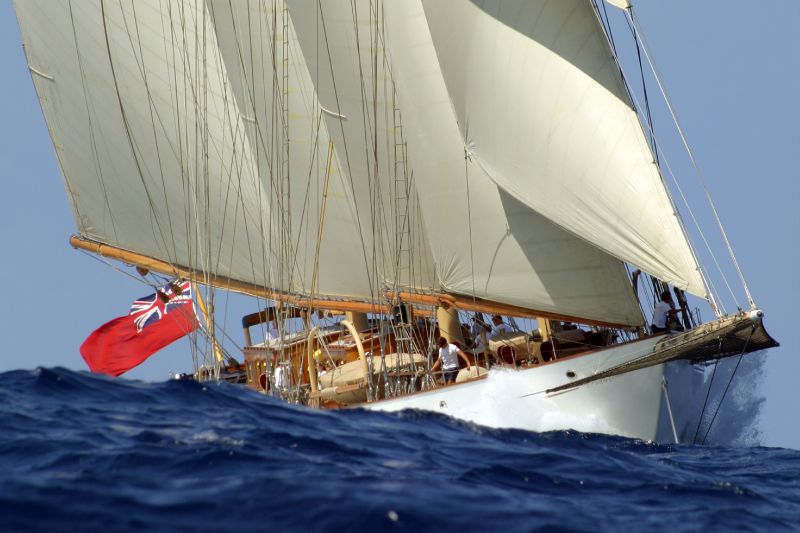 Although all of the booms and gaffs remain the same for now, some of them being already constructed with a carbon fibre strengthening ring, the overall weight saving will be around 70% making this newly, improved sailing machine a force to be reckoned with. In time it is likely that all spars will follow suit, but for now it will be about making the most from what there is, with the old lower sails remaining and larger sized topsails built to cater for the masts' increased length.
All in all Adix will return as what we all recognise her as: An awe-inspiring schooner. Classic or Modern? Well, Yes, that's a question! But honestly who cares. Having been constructed in 1984 Adix has used the minds and materials that have befallen her to develop into what is to many the ultimate choice. Classic looks, both inside and out, while using the most of present day materials and technology to give the best in sail performance. She is not pretending to be a classic, but those lines are priceless and I for one would love to be standing at the next Fife regatta to witness Adix powering into her anchorage exuberating finesse and carbon fibre prowess.