Yacht: Vagrant
Submit Information on this Yacht
"What a superb yacht. My friend Han Lammers owned her for a brief spell in the eighties.   Unfortunately, he was chartering her and switched the running backstays on the mainmast to a backstay on boomkin set-up which failed in heavy seas off Barbuda and toppled the whole rig.   He tried to find the spars in a private plane to no avail, and was never able to get the sticks up on Vagrant again.
He sold her to Peter de Savary(PDS) of English America's Cup fame.   PDS undertook a monumental full refit – right down to the frames – in Antigua, then had Harry Spencer re-rig her as a gaff schooner as she was designed.   I never saw her fully restored and would love any info as to her recent past and location".
Information courtesy of Bill Price
"I was one of the crew members on Vagrant when we sailed her in the Caribbean and later from Portsmouth UK to Osaka, Japan in the mid 1990s.   Peter de Savary had sold her to the Osaka Yacht Club and one of the conditions was that we deliver her under sail.   I understand she is still there but has not been sailed nearly as much as she should have been".
Information courtesy of Shaggle.
2017 – Shown on the Hannibal Marina, Monfalcone, website: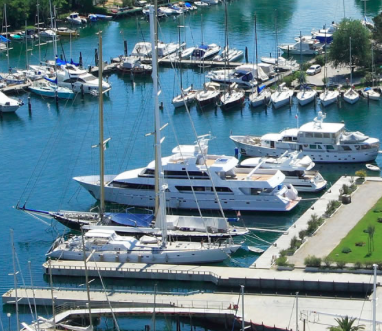 2018
Royal Huisman will stripped her out and 'reanimated' her graceful lines with a new crew quarter. Technical installation like the engine, generator, heating, air condition and so on will be smartly installed. Dykstra Naval Architects will redesign her schooner-rig with yankee, staysail, main staysail and queen fisherman. Rondal will build new aluminum masts including a furling system for the fisherman sail and mainsail.
May 2019
Relaunch
Please follow and like us:
Designer:
Nathanael Greene Herreshoff
Type of Boat:
2 Masted Gaff Schooner
Rig:
2 Masted Schooner
Year Built:
1913
Built By:
Herreshoff Manufacturing Co., Bristol, Rhode Island, USA
LOA m / ft:
39m / 128'
LOD m / ft:
33.2 m / 109'
LWL m / ft:
17.30m / 56'7"
Beam m / ft:
5.5m / 18'
Draft m / ft:
3.5m / 11'4"
Yard No:
Sail Stats
Sail Area: 465 sq.m
Construction:
Other:
Displacement: 68 tons.