Yacht: Dwyn Wen
Submit Information on this Yacht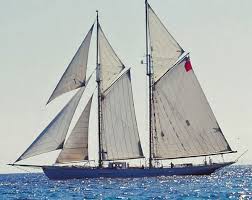 Dwyn Wen has criss-crossed the World under a succession of owners and always with the same name, that of the Welsh patron saint of lovers. Given her extraordinary voyages in distant waters, of which considerable information, with pictures and anecdotage has been collated, it would be interesting to know if she has ever ventured back into British waters since she left Weymouth on 8th of August 1924 bound for Hong Kong.This remarkable 128 ft classic schooner enjoyed a clutch of ownerships on the West coast of America – largely cruising the Pacific in the 1920s. One such cruise a 4,000 mile trip under Dr Robert Hale Ellis took 42 days during which her crew sighted nothing but whales, sharks, porpoises and seabirds.
Post War another trip from Hawaii to French Polynesia was recorded in a book by Rita Kistner, wife of her then owner. Another expedition with scientific aims undertaken in 1963 was written about in great detail in "Seismic Summer" by Marge Bradner, wife of the expedition leader – and only lady aboard.
She had a new owner in 1977 and has since cruised and chartered her in the Indian Ocean and around the Far East. She was then for sale lying in the lagoon of Mayotte at the North end of the Mozambique Channel and ready for a restoration project.
"Dwyn Wen sank in 2014 in Mayotte. She slipped her moorings and caught on a reef." Christopher Barton
Please follow and like us: