The latest news
Designer: Alexander Robertson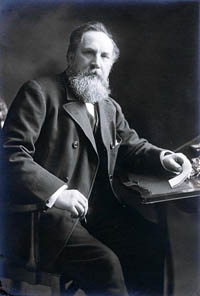 Alexander Robertson is primarily famous for the Alexander Robertson & Sons Shipyard. He started repairing boats in a small workshop at Sandbank, Argyll in 1876, and went on to become one of the foremost wooden boat-builders on Scotland's River Clyde. The 'golden years' of Robertson's yard were in the early 1900's when they started building some of the first IYRU 12mR & 15mR (Metre Class) racing yachts. Robertson's was well known for the quality of their workmanship and was chosen to build the first 15-Metre yacht designed by William Fife III (Shimna, 1907).
More than 55 boats were built by Robertson's in preparation for the First World War and the yard remained busy even during the Great Depression in the 1930's, as many wealthy businessmen developed a passion for yacht racing on the Clyde. During World War II the yard was devoted to Admiralty work, producing a wide range of large high speed Fairmile Marine Motor Boats. After the war the yard built the successful one-class Loch Longs and two 12-Metre challengers for the America's Cup: Sceptre(1958) and Sovereign (1964). Due to difficult business conditions the Robertson family sold the yard in 1965, and it was turned over to GRP production work until it closed in 1980. During its 104-year history, Robertson's Yard built 500 boats, many of which are still sailing today.
Robertson also designed a number of yachts. Boat No 1 was a 25 ft (7.6 m) cutter built for John Dobbie of Dunoon, named Cowal Lass. In 1904 he also designed and built Elrhuna, a 28 ft (8.5 m) sloop which due to the quality of the wood and sound construction she still races regularly on the west coast of Scotland.
Please follow and like us: