Designer: AK Balfour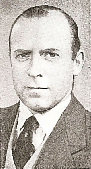 A Glasgow man who was apprenticed to Harland and Wolff at Sandbank. He later joined Alexander Robertson and Sons and worked with David Boyd, the designer of the 12-Metre Sceptre. He returned to Harland and Wolff as Yard Manager and in 1947 went to the Berthon Boat Company at Lymington as Manager. There he designed the 20 ton Northele for the International 10-Metre class. He drew the lines of Skirl, a five tonner built on the Clyde and joined Lloyds of London as a yacht surveyor. In the year of the £1000 yacht competition, 1958, he was manager of J.Loynes and Son Ltd of Wroxham, Norfolk.
His design, the Honey Bee, took the second prize in the competition. The judges considered the Buchanan boat and the Honey Bee to be the designs which most closely corresponded to the type of boat required by four people cruising the West of Scotland and the final decision between the two yachts was made on the question of probable costs.