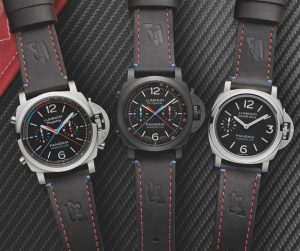 Panerai, known to many classic yacht enthusiasts as the Italian watch maker that sponsors the PCYC (Panerai Classic Yacht Circuit), have recently taken on their most high profile project by sponsoring the America's Cup. They have teamed up with Oracle Team USA and Softbank Team Japan and are the official watch for the 35th America's Cup.
Officine Panerai is in their 13th year of sponsoring their prestigious classic yacht regatta circuit, and having restored the Fife ketch Eilean and campaigned her for the last seven years there is little to suggest that their devotion to the classics is wavering. Furthermore, when you have Oracle owner Larry Ellison passionate about Panerai it seems an obvious pairing considering the Cup's history and the similarities shared in devotion to precision and technical development.
Hence, Panerai's new America's Cup watches include 5 models all with unique looks and minute differences. They tie in perfectly with Panerai's innovative and eye-catching new range of 2017, that witnesses the brands journey from a novel, apparent back-seater to an exciting and driven quality brand ready for the limelight.
Below you'll find all of the AC models available. Numbers limited for sure and price…well, unknown at this stage but maybe better not to ask. You could always buy that new sail you've always wanted and have those splines dealt with and build a new mast instead!
The Official watch to the 35th America's Cup
Softbank Team Japan (stainless steel)
Oracle Team USA (ceramic)
Oracle Team USA (titanium)
Oracle Team USA (stainless steel)
Please follow and like us: