The California 32 Altamar was built by Fellows and Stewart in Terminal Island, California in 1937 to a design by Nick Potter. She is the second in a series of seven sisters built in response to the design request that also resulted in the New York 32, for the New York Yacht Club. Of the seven built, one – Escapade – sank off of Hawaii, and the last in the series is Pegaso, which was built by Cheoy Lee in strip planking with a modified deck and cabin design as well as a less commodious accommodation.
'Altamar' had an illustrious racing and cruising career. Her first owner was Donald Douglas, of the Douglas Aircraft Company, and in the twenty year ownership of John Paul Jones she was normally in the silver for the many classic races that he entered, such as the Lipton Cup. In 1990 she was purchased by Roger Sullivan of Rancho Santa Fe who intended to refurbish her. His plans changed and she was abandoned at the San Diego Boat Movers where she was stored for a number of years; she then moved to the Koehler Kraft Yard until a major renovation project mandated a move.
Douglas Jones rescued her and moved her to Traditional Boatworks in San Diego, where she's been stored since 2007. In 2013 Doug Jones moved his home and business to Port Townsend, Washington, and with his lease in San Diego expiring in June, 'Altamar' needs to be relocated and/or rebuilt by a new owner with the vision and wherewithal to enable her restoration into an A1 yacht.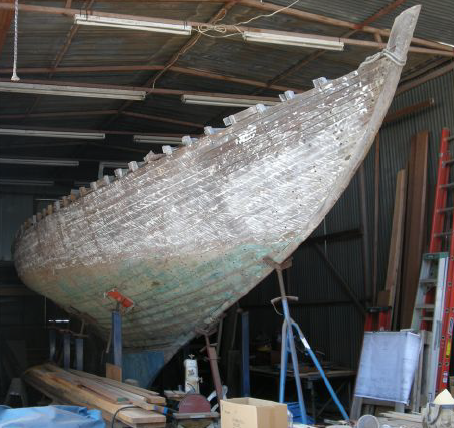 The bones are good – she has a teak back bone and she has maintained her shape. Doug has the sails plan, lines, construction plans, complete measurements for the mast and a great deal of information from Tom Skahill (now passed away) who wrote several extensively detailed articles about Nick Potter for WoodenBoat Magazine. Further Doug helped to rebuild Andale for the late Doug Smith of San Diego. 'Andale' is now sailing in the Med where she is a highly regarded classic boat.
Further information is available, as well as photo documentation of the class, from the noted British/American photographer of classic boats, Kathy Mansfield via her articles in Classic Boat Magazine. And on the Sparkman and Stephens Owner's Association website, two detailed and authoritative pieces by Patrick Matthiesen comparing and contrasting the NY 32 and the Cal 32, can be found. Doug has estimates for shipping the boat to a new owner as well as for rebuilding her into the beauty that she once was.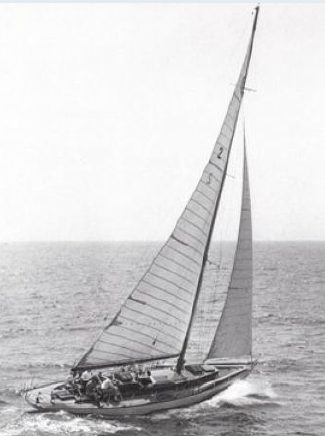 Although the scope of the project is large, when completed, an owner would have a very lovely and "useful" classic – equally at home coastal cruising, racing, or making long ocean passages. With a generous cockpit, long trunk cabin, aft cabin and comfortable saloon, galley and large fore peak (if rebuilt as designed) and moderate overhangs, as well as 7 tons of ballast and a moderate draft she is perfect for extended cruising. She has wide side decks and fore deck and an easily handled sail plan.
The alternative is unmentionable but the elephant in the room is that unless a new owner steps forward, she may be demolished. Doug has saved her, and stored her at substantial expense, for 10 years. While he would love to rebuild her himself, and is both an accomplished ships's carpenter and spar builder, as well as very knowledgeable about classic boats, more than anything he would like to see the boat saved and sailing again. If he were to rebuild her he has a substantial stock of teak and Angelique for the hull as well as Sitka Spruce for the mast. He is an experienced, knowledgeable and skilled boat builder and would love to rebuild her but realistically he doesn't have the money. His business partner, Robert d'Arcy, also has many years of boatbuilding and sailing experience and his knowledge and skills compliment Doug's.
In Port Townsend there are capable and highly thought of riggers, sail makers, and Peter Langley with his encyclopedic "library" of designs and patterns for classic bronze hardware, all of whom would become involved. Doug's mother, Virginia Jones, who lives on Martha's Vineyard, is also a partner in the project. She has worked in the "wooden boat industry" since 1973, and is a skilled and resourceful researcher for materials, reference information and the like for classic yachts and traditional boats. All "partners" have substantial sailing experience which helps to set them apart from many other boat builders and "dreamers."
Please join us in noodling around ideas on how to keep 'Altamar' from the knackers; she is too good to chain saw, although just the value of the lead keel is substantial.   Doug will happily provide photos, plans, estimates and further information on how to acquire this project at various stages of completion.
You can call Doug in Washington State 619-993-9295 or Ginny in Massachusetts at 508-693-6397.
Please follow and like us: