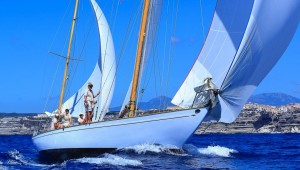 Over the past five years the Corsica Classic has become a not-to-be-missed event on the sport and lifestyle calendar of the Mediterranean, and remains the only regatta to sail a week-long circuit along the Corsican coastline.
The regatta has been accepted under the patronage of the Yacht Club of France last year, a mark of great prestige, as the Club selects very few races from the French classic yacht circuit for this honour.
The route: Ajaccio, the Sanguinaire Islands, Porto-Pollo and the Gulf of Valinco, Bonifacio, Porto-Vecchio, Santa Giulia : names that conjure up visions of the Isle of Beauty; iconic landmarks dotted along the route of this seven-day race.
Each day, the yachts will follow a coastal route of around 20 miles, a distance that will take at least 2 ½ hours to navigate for the shortest days, and up to 6 hours for the longest. Arriving at their overnight moorings, competitors will find exceptional port services and stunning backdrops.
Last year the winner was Dorade, from The St-Francis Yacht Club, a magnificent Marconi built to Olin Stephens' innovative 1929 design and winner of some of the world's great regattas, including the Fastnet and the 1931 Newport to Plymouth Transatlantic.
Back on shore, race week will include its fair share of surprises, starting with the traditional imperial cocktail in the Napoleonian Salons at the Ajaccio city hall. This will be followed one day later by a Night Party at 'Chez Francis' on the Cala d'Orzu beach and on the friday there is a concert at Santa-Giulia beach, and a Paddle contest in the stunning Santa Giulia Bay.
A wonderful week sailing the Corsican coastline and enjoying the local hospitality….
Please follow and like us: