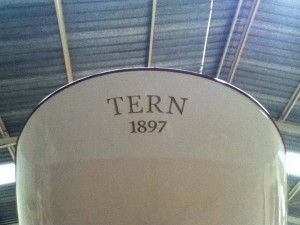 In November, 2013
TERN
 was put ashore in Mallorca for a repaint and a new deck. As the old paint was peeled away it revealed a job that would be substantially more than was first imagined. Several copper rivet heads fell off as they were exposed and so began the long process of dismantling to salvage as much as possible. However, not much else was found worth keeping.
By spring 2014 it was decided to carry out a complete rebuild – New frames, new planking, new deck, new everything….!
I have been involved since September last year, initially redrawing the rig from the one and only original drawing… Design of all mast hardware, deck fittings, and making of Rig..
All blocks came from Colin Frake, as are deck fittings, sockets, eyes, nun's caps etc….
Dryade are making most of the bigger bronze works and locally, steel work and other bits.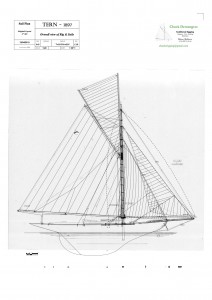 The mast is old, the existing Gaff shortened to original dimensions and other spars made by Collars in the UK.
She was relaunched (Trial on April 20th) and has yet to be rigged (under way) and interior finnished off…
I will keep you posted…      Chuck Demangeat – Chuck's Rigging
Please follow and like us: